Undoubtedly by now most savvy marketing professionals will have planned and finalised their marketing strategy for 2019. Even so, it's important to be aware of and take into account new trends that are set to take the marketing world by storm in the next twelve months. From scaled down, personalised content to chatbots and smart speakers, we've compiled our pick of the top marketing and social media trends for 2019 that we think are important to look out for.
Scaling Down and Personalising Social Media Content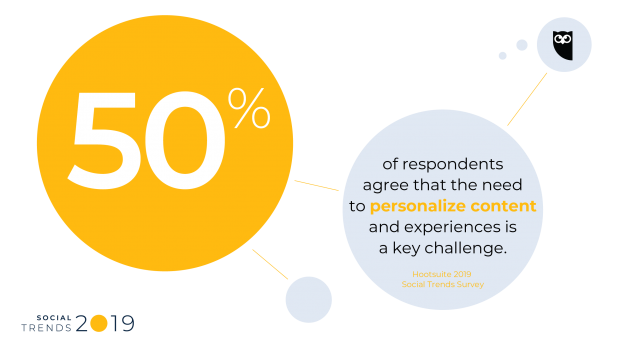 According to Hootsuite, 2019 will bring new opportunities for brands as their focus shifts towards capturing smaller audience groups with meaningful, intimate engagement. Consumers have grown distrustful of the use of celebrity influencers to endorse products. There is no truth or transparency to somebody being paid to say they love a product. As a result, consumers have woken up to the sheer lack of authenticity. Many brands are now seeking to build relationships and partnerships with so-called 'brand ambassadors;' local influencers with a smaller, but much more loyal following in the tens of thousands. Content will often be curated and released over a longer period of time with brands capitalising on the trust that the community has in the influencer.
Our top tips for personalising your social media content:
Engage with users – responding to and liking to comments and following people can generate a community feel around your brand

Consider working with a local influencer to boost brand awareness and create engaging content

If your business is larger, consider having social media accounts for your top executives. According to

SocialReport

, the 'social CEO' is a big trend for 2019 due to growing distrust in the media. Building trust in your brand is key.
Virtual Assistants Are Here To Stay
As we touched on in our Voice Search 101 blog, 2018 saw an explosion in ownership of smart speakers.Consumers love them and many say they couldn't live without their digital assistant. This may seem an odd topic in a marketing trends blog, but SocialReport makes an excellent case for why marketers need to keep their eye on this trend.
With a captive audience, they argue that we're likely to see more and more brands embracing audio content that will be published on these devices. They also argue that we're likely to see a development in advertising on the platforms, with the potential for Apple and Google offering brands and businesses opportunities to buy ad space. It will be interesting to see how far this is taken; will content be curated and released exclusively through smart speakers, similar to Netflix and their extensive original programming collection, offering advertisements at a premium to parties keen to target their customer base? This technology is still in its infancy so it will be fascinating to watch it continue to develop in 2019.
Chatbots And The Need For Speed
According to the Digital Marketing Institute, the effectiveness of chatbots in 2018 is already showing a significant increase in their usage, and that use is likely to continue growing for digital marketing in 2019. Research by LivePerson, cited by SocialReport, concluded that out of 5,000 people surveyed only 19% demonstrated any negativity towards chatbots. The ease of use and speed they provide, as well as the fact that they require no manpower to operate, mean users get to experience fantastic customer service without having to wait on the end of the phone, especially important during transactions.
Chatbots are easy to develop and can be an invaluable tool for a business. If you think a chatbot could help your business, consider factoring this into your marketing strategy for 2019.
Social Commerce Is Set To Boom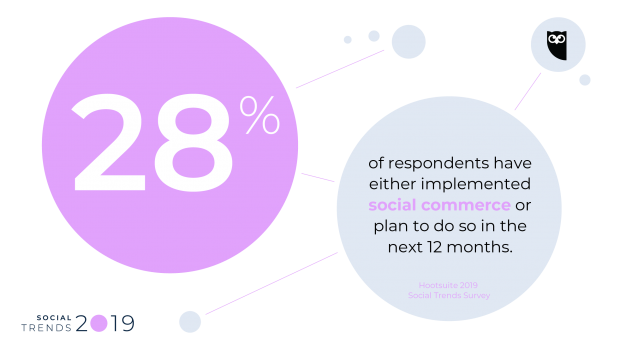 According to SproutSocial, it has never been more important to offer consumers a seamless customer experience. Their suggestion to achieve this: integrate as much as possible. They argue it's crucial to make sure your commerce and social platforms are as intertwined as possible. Shopping tags on Instagram posts and linking your customer service to your social media channels are two top tips they offer to achieve this.
Hootsuite argues that improved social shopping technologies will fuel sales in 2019. With Facebook Marketplace being used by over 800 million people in over 70 countries, and Instagram offering consumers the ability to make purchases without leaving the app now is the time to ensure that you are fully integrating your social media and e-commerce to maximise on sales.
Our top tips to maximise social media sales:
Publish high quality, well-curated content centred around your product range

Include shoppable tags on all products featured

Offer special social media exclusive discount codes and perks to encourage a purchase
Don't Sleep On Pinterest
SproutSocial has got Pinterest securely on their radar. Pinterest is regularly used by consumers to research and save products on a 'board' for future purchase. Users 'pin' images and can create boards according to any kind of theme they can think of. If your business regularly advertises on social media, or a lot of your purchases originate from your social media pages, you might want to consider investing in advertising on Pinterest. Statistics published by SproutSocial suggest that 61% of users have made a purchase after seeing promoted content on the site.
Here are some statistics about Pinterest that might get you thinking:
250 million active monthly users (source)

175 billion+ pins (source)

3 billion+ boards (source)
With a large captive audience already using the platform to research purchases it is no surprise that Pinterest is set to represent a huge trend in marketing in 2019.
If you would like to discuss your marketing strategy for 2019, or if you'd like more information on how Koncept can help you achieve your marketing goals, get in touch today.